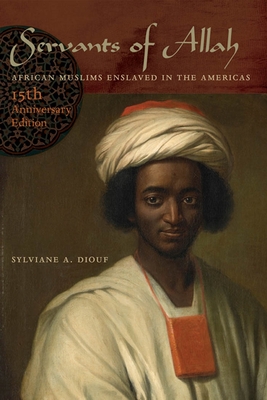 Servants of Allah: African Muslims Enslaved in the Americas
Publication Date:
October 4th, 2013
Publisher:
New York University Press
Usually Ships in 1 to 5 Days
Description
Illuminates how African Muslims drew on Islam while enslaved, and how their faith ultimately played a role in the African Disapora
Servants of Allah presents a history of African Muslims, following them from West Africa to the Americas. Although many assume that what Muslim faith they brought with them to the Americas was quickly absorbed into the new Christian milieu, as Sylviane A. Diouf demonstrates in this meticulously-researched, groundbreaking volume, Islam flourished during slavery on a large scale. She details how, even while enslaved, many Muslims managed to follow most of the precepts of their religion. Literate, urban, and well-traveled, they drew on their organization, solidarity and the strength of their beliefs to play a major part in the most well-known slave uprisings. But for all their accomplishments and contributions to the history and cultures of the African Diaspora, the Muslims have been largely ignored. Servants of Allah--a Choice 1999 Outstanding Academic Title--illuminates the role of Islam in the lives of both individual practitioners and communities, and shows that though the religion did not survive in the Americas in its orthodox form, its mark can be found in certain religions, traditions, and artistic creations of people of African descent. This 15th anniversary edition has been updated to include new materials and analysis, a review of developments in the field, prospects for new research, and new illustrations.
About the Author
Sylviane A. Diouf is an award-winning historian of the African Diaspora. She is the author of Slavery's Exiles: The Story of the American Maroons and Servants of Allah: African Muslims Enslaved in the Americas, both with NYU Press. The fifteenth anniversary edition of Servants of Allah--named Choice Outstanding Academic Book in 1999--will be released in October 2013. Her book Dreams of Africa in Alabama: The Slave Ship Clotilda and the Story of the Last Africans Brought to America received the 2007 Wesley-Logan Prize of the American Historical Association, the 2009 Sulzby Award of the Alabama Historical Association and was a finalist for the 2008 Hurston/Wright Legacy Award. She is the editor of Fighting the Slave Trade: West African Strategies and the co-editor of In Motion: The African-American Migration Experience. A recipient of the Rosa Parks Award, the Dr. Betty Shabazz Achievement Award, and the Pen and Brush Achievement Award, Diouf is a Curator at the Schomburg Center for Research in Black Culture of the New York Public Library.