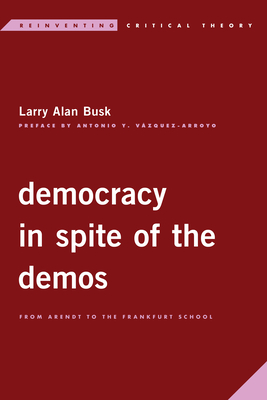 Democracy in Spite of the Demos: From Arendt to the Frankfurt School (Reinventing Critical Theory)
Publication Date:
February 14th, 2020
Publisher:
Rowman & Littlefield Publishers
Description
The value of democracy is taken for granted today, even by those interested in criticizing the fundamental structures of society. Things would be better, the argument goes, if only things were more democratic. The word "democracy" means "the power of the people," and scholars with a critical and progressive outlook often invoke this meaning as a way of justifying the honorific status accorded to the term: the power of the people to resist racism, sexism, imperialism, climate change, etc. But if the people have the power to resist these structures of domination and inequality, they also have the power to reinforce them. By treating democracy as an end in itself, political theorists of a critical bent overwhelmingly assume that the demos, if given the opportunity, will advance progressive or even radical politics. But given the recent successes of right-wing populism, and the persistence of pathological views such as climate skepticism, is this assumption still warranted? If not, then can democracy really save us?